What NOT to do:
Be anywhere near a riot

Punch a cop
h/t Rodrigo Borgia
---
h/t m on A♠
---
La Raza 95.7 Studios Destroyed by Fire During Protests
RADIO ONLINE | Friday, May 29, 2020
La Raza 95.7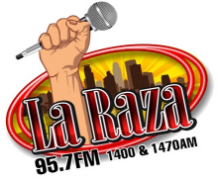 The protests in Minneapolis, over the death of George Floyd at the hands of police, led to the destruction of the studios of Santamaria Broadcasting's Regional Mexican KMNV-AM and K239CJ (La Raza 95.7)/St. Paul. Facilities on the fourth floor of an office building on the corner at 3003 27th Avenue South and E. Lake Street were consumed by fire in an area where the protests and looting were centered. It was a block east of the Minneapolis Police Department's 3rd Precinct that was burned down. KMNV had been off the air since Wednesday due to power outages caused by the protests.
The station posted on Facebook, "As you may already know, the building where our facilities were located was burned down by the same horde that looted dozens of businesses along Lake St. without the authorities intervening to contain them. Right now we are evaluating the options we have and through social media we will be informing you."
A radio station the very name of which is racist gets burned out. Like the woman getting punched out in the first video above, don't shed many tears over this.
h/t Tom Servo on A♠
---
Lil Wayne on George Floyd's Death
Trace William Cowen on Complex.com
Lil Wayne has addressed the death of George Floyd, who was seen in footage with now-fired Minneapolis Police Department officer Derek Chauvin holding a knee to his neck.
"I think when we see these situations, I think we also have to understand that we have to get very specific. … And what I mean by that is we have to stop viewing it with such a broad view, meaning we have to stop placing the blame on the whole force and the whole everybody or a certain race or everybody with a badge," Wayne said during an IG Live chat with Fat Joe.
Wayne continued: "We have to actually get into who that person is. And if we want to place the blame on anybody, it should be ourselves for not doing more than what we think we're doing."
h/t Clyde Shelton
---
PDT:
Great job last night at the White House by the U.S.
SecretService. They were not only totally professional, but very cool. I was inside, watched every move, and couldn't have felt more safe. They let the "protesters" scream & rant as much as they wanted, but whenever someone got too frisky or out of line, they would quickly come down on them, hard – didn't know what hit them. The front line was replaced with fresh agents, like magic. Big crowd, professionally organized, but nobody came close to breaching the fence. If they had they would have been greeted with the most vicious dogs, and most ominous weapons, I have ever seen. That's when people would have been really badly hurt, at least. Many Secret Service agents just waiting for action. "We put the young ones on the front line, sir, they love it, and good practice." As you saw last night, they were very cool & very professional. Never let it get out of hand. Thank you! On the bad side, the D.C. Mayor, MurielBowser, who is always looking for money & help, wouldn't let the D.C. Police get involved. "Not their job." Nice!
===
Donald J. Trump @realDonaldTrump
2h
The professionally managed so-called "protesters" at the White House had little to do with the memory of George Floyd. They were just there to cause trouble. The SecretService handled them easily. Tonight, I understand, is MAGA NIGHT AT THE WHITE HOUSE???
---
Friend from another forum posted this:
Daughter just called. She is Port Authority and is stationed at the Trade Center. These punks tried to disrespect a reflecting pool and the 9-11 museum. The NYPD. Stepped in and maintained order. Her captain was approached by a person who said he found a wallet. Then slashed the captains lip nearly off when he got close. A lieutenant standing near her was hit in the face with a brick. The lieutenant was a black guy so it is just anarchy has nothing to do with race. This morbidly obese women pushed her partner then took a swing when she went for a second go he knocked her out cold. This infuriated her friends but they backed off after that. She said most were young whites in face covering. The PAPD were told to not get involved with the rioters unless the memorials or museum were threatened and to let the NYPD do their thing. She said they controlled themselves very well. Brooklyn is burning.
Posted by: Anonosaurus Wrecks on A♠  at May 30, 2020 12:00 PM
---
Protesters block St. Louis interstate for hours before gunshots disperse crowds; 1 killed when struck by tractor-trailer
David Carson , Erin Heffernan , Taylor Tiamoyo Harris | St Louis Today
…protesters started a fire in the road and broke into an Amazon Prime truck and a FedEx truck. One protester climbed between the FedEx truck's two trailers and died as the truck drove away…
---
---
h/t Citizen on A♠